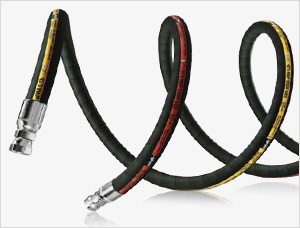 Customers throughout our region choose VBH Technologies to supply hydraulic hose - particularly compact spiral hydraulic hose - and hydraulic hose assemblies. The reason: We provide the greatest value for their OE or MRO dollar, in both imperial and metric sizes.
VBH Technologies hoses and hose assemblies transfer the broadest range of products, from farm chemicals to potable water to petroleum products. Our belting products provide power and conveyance to power transmission systems, material handling devices, and much more. And our custom product development group has solved process and transfer issues for companies in virtually every sector of industry.
VBH Technologies has a long history of service, dependability, and fast turn-around, even on special orders. Our extensive in-house resources include a full-time metallurgist, and full-time mechanical engineer, both of whom provide expert consulting regarding applications for hose assemblies and all other VBH Technologies products as well.
VBH Technologies has extensive instrumentation for the quality testing of incoming material, and finished product. We have a strong, company-wide commitment to quality and to the continuous improvement of our operations and processes. Kanban techniques are employed to precisely hone production to customer needs; we also participate in the JIT programs of numerous customers.
VBH Technologies President, Michael C. Armbruster, is President Emeritus of the Association for Hose and Accessory Distribution, Chairman of the Hydraulics Committee and Chair of the Assembly Guidelines Committee, which evaluated standards and sets parameters for hose products and hose assemblies used industry-wide throughout the US.
Everything we are... and everything we do... leads to one important commitment: to provide
Greatest value for your hose assemblies - dollar... every day.
"VBH Technologies is a NAHAD listed company"