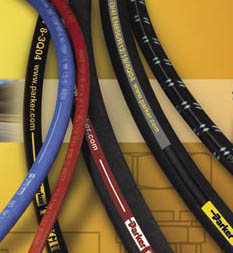 VBH Technologies hydraulic hose assemblies are manufactured in 1/8" to 4.0" I.D - also metric sizes. We use Uniflex and Marken crimping presses for highest quality, most repeatable results. Most hydraulic hose assemblies ordered in specialty volumes are crimped using the Uniflex 220. Production volumes are processed using the Uniflex production crimper 375 or one of our Marken systems.
The Uniflex 375 has a master die length of 126 mm and tool re-enforcement for ultra heavy fittings. It delivers a crimp force of 2800 tons, and crimp speed of 4 seconds. SAE R13, SAE R15.
Our Marken 500 A and 500 S heavy-service hose crimpers are also used for hydraulic hose assemblies. These systems are PC interfaced, allowing programmable length batch and speed. The 500 A is for long production runs of non-wire hydraulic hose assemblies, up to 2" O.D. The 500 S Autosaw is ideal for fabric Teflon and wire-reinforced assemblies up to 1.5" I.D., 1 and 2" wire.